Artworks
Fields 2.1, 2009–12
Kuda begut sobaki
Russia
Mixed media installation (сustom objects, servomotors, magnets, microcontroller, sensors, micro-cameras, ferrofluid)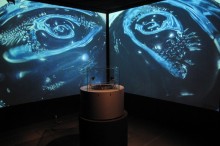 Kuda begut sobaki (RUS). Fields 2.1, 2009–12. Mixed media installation, image courtesy the artists. 2012 Photo by Juri Plastinin
Alexey Korzukhin, Vladislav Bulatov, Natalia Grekhova, Olga Inozemtseva
Fields 2.1 is an attempt to create an illusion of consciousness in non-living matter. A moving eye is a property that allows the viewer to perceive the "inanimate" as the "conscious". Using magnetic fields and ferrofluid technologies the artists build up a model of how non-living matter evolves which has an inherent organic characteristic to undergo random specific changes at specific moments of time. In the project consciousness (or its signatures) appears as a reaction to another consciousness (or its signatures) and comprises various relations between matters – from observation to interaction.
Credits: Programming Denis Perevalov. In collaboration with Dr. Prof. Vladimir Shur at the Ural Center of Shared Use "Modern Nanotechnology", Ural State University and Artpolitika Creative Agency, Ekaterinburg, Russia
Biography

Alexey Korzukhin (b. 1974), Vladislav Bulatov (b. 1975), Natalia Grekhova (b. 1976), Olga Inozemtseva (b. 1977). The group was formed in 2000 in Yekaterinburg, Russia. It represents a wide range of contemporary multimedia arts (sound, video, installation, public performances). In its artworks the group addresses spontaneous bodily experiences and mythological narrations, as well as optical and language illusions. The group's artwork has been presented at various festivals and exhibitions of contemporary art, including On the resort (Baden-Baden, 2004), 9th and 11th Art Forums of Artistic Initiatives (Moscow, 2004, 2005), 8th International Festival of Independent Artists Break 2.3 (Ljubljana, 2005), 10th Contemporary Sculpture Triennale (Fellbach, 2007), The Young Aggressive (Tokyo, 2008), 8th and 9th Krasnoyarsk Biennale (Krasnoyarsk 2009, 2011), Russian Utopia (Moscow, 2010), Aesthetics vs Information (Klaipeda, 2010), Moscow International Biennale of Contemporary Art (Moscow, 2005, 2007, 2009), and at exhibitions at the Second Nanotechnology International Forum (Moscow, 2009), the State Tretyakov Gallery (Moscow, 2005), Moscow House of Photography (Moscow, 2011), National Centre for Contemporary Arts (Moscow, Nizhny Novgorod, Yekaterinburg, Saint Petersburg, 2011).