CURATOR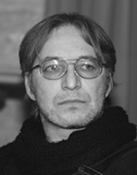 Dmitry Bulatov
Dmitry Bulatov (b. 1968, Kaliningrad, Russia) is an artist, researcher and art theorist. His research focuses on different aspects of interdisciplinary art media (sci-art, techno-biological arts, etc.), as well as on submediality aesthetics.
Bulatov is the author of many articles on art and new technologies published; he has also edited books and anthologies such as Ex-poetry (Malbork, 1996), Point of View (Olsztyn, 1998), Homo Sonorus (Kaliningrad, 2001), BioMediale: Contemporary Society and Genomic Culture (Kaliningrad, 2004), Evolution Haute Couture: Art and Science in the Postbiological Age (part I, Kaliningrad, 2009). His artworks have been presented internationally, including such exhibitions as the Bunker Poetico (49th Venice Biennale, 2001), Davaj! Russian Art Now (Berlin–Vienna, 2002), Brain Academy Apartment (50th Venice Biennale, 2003), 3durch3 (Kassel, 2004), Eastern Neighbours (Utrecht, 2006), Technology Expanding the Horizon (Columbus, 2007), Senses Alert (Berlin, 2008), Corpus Extremus LIFE+ (New York, 2009), Russian Utopias (Moscow, 2010), Life. Version of Science (Moscow, 2011) and others. Dmitry Bulatov has taken part in numerous festivals, including the International Film Festival (Moscow, 2001, 2007, 2008), Radiotopia (ORF, Ars Electronica, 2002), Berliner Festspiele (Berlin, 2003), SKIF-8 (Saint Petersburg, 2004), Up to date (Santiago, 2006), SciArtFest (Moscow, 2009), The Unheard Avantgarde (Copenhagen, 2011), Pro&Contra (Moscow, 2011), Global Future 2045 (Moscow, 2012) and others. Bulatov has lectured at numerous academic institutions in Russia (including The State Hermitage Museum, The State Tretyakov Gallery), USA, Canada, Germany, the Netherlands, Mexico, Singapore and Hong Kong. In 2007 one of his artworks was selected by Wired magazine as the world's 10 top innovations. He has received numerous grants and awards including the National Innovation Award for Contemporary Visual Arts (2008).
Dmitry Bulatov is currently a Senior curator at the Baltic Branch of the National Centre for Contemporary Arts and the leading expert at the Innovation Park of the Baltic Federal University (Kaliningrad, Russia).