Artworks
Silent Barrage, 2009
Neurotica
Australia–USA
Video documentary film, 5' 39", AU, in English, color, stereo, DVD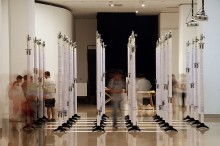 Neurotica (Australia-USA). Silent Barrage, 2011. Mixed media installation, image courtesy the artists. 2009 Photo by Philip Gamblen
Robots move vertically along various columns, leaving traces that are actually the representation of the firings of neurons cultivated in a glass dish located thousands of kilometers away. Parallel to this, sensors located around the installation capture the movements of the public, which stimulate back the neurons.
Neurotica is made up of artists Guy Ben-Ary and Philip Gamblen and Peter Gee, as well as Dr Steve Potter and Riley Zeller-Townson, neuroscientists from the laboratory of neuro-engineering at Georgia Tech, Atlanta, United States.
Silent Barrage is hosted in SymbioticA, The Centre of Excellence in Biological Arts, School of Anatomy and Human Biology at the University of Western Australia.
Biography

Philip Gamblen, Guy Ben-Ary, Peter Gee, Dr. Nathan Scott & Brett Murray, Dr. Steve Potter, Douglas Swehla, Stephen Bobic & Riley Zeller-Townson. This project was researched and developed at SymbioticA, The Centre of Excellence in Biological Arts at The School of Anatomy & Human Biology, University of Western Australia and Dr. Steve Potter's lab within the Laboratory for Neuroengineering, Georgia Institute of Technology.

SymbioticA – The Centre of Excellence in Biological Arts
SymbioticA is an artistic laboratory dedicated to the research, learning, critique and hands-on engagement with the life sciences. Crossing the disciplines of art and the life sciences, SymbioticA encourages better understanding and articulation of cultural ideas around scientific knowledge and informed critique of the ethical and cultural issues of life manipulation. SymbioticA was established in 2000 and won the inaugural Golden Nica in Hybrid Arts at Prix Ars Electronica in 2007.

The Potter Lab
The Potter Lab is a research group that was established in 1999 (Los Angeles, USA). It is directed by Dr. Steve Potter. It operates in the Neuroengineering Laboratory at the Georgia Institute of Technology (Atlanta, USA). The Potter Lab applies multi-electrode array culture dishes, 2-photon time-lapse microscopy, and high-speed imaging of neural activity to study dissociated cultures of mammalian neurons. They are especially interested in distributed activity patterns and information processing of these cultured networks.