Artworks
Eye-Tracking Informatics, 2011–2012
Seiko Mikami
Japan
Two participants version: Commissioned by Yamaguchi Center for Arts and Media (YCAM)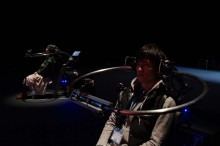 Seiko Mikami (JP). Eye-Tracking Informatics, 2011–2012. Interactive installation, Yamaguchi Center for Arts and Media (YCAM), image courtesy the artist. 2010 Photo by Ryuichi Maruo
Based on the ideas of "observing the act of observation" and "consciously and unconsciously established lines of vision", this installation generates traces of two participants' respective lines of sight. The participants experience an almost "haptic" kind of communication based on their own visualized lines of sight in a three-dimensional virtual space. In this process, their respective lines of vision enact a complex, organic architectural construct that could be considered as "bioarchitecture". The first version of eye-tracking project (Molecular Informatics) was realised by Seiko Mikami in 1996.
Credits: Takayuki Ito and Richi Owaki (YCAM InterLab), evala (sound), Norimichi Hirakawa (programming), Kazunao Abe (YCAM), "The EyeWriter ver.2.0", photo: Ryuichi Maruo
EU-Japan Fest Committee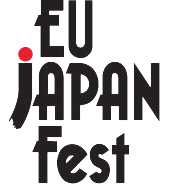 Biography

Seiko Mikami (b. 1961, Shizuoka, Japan) has been showing large-scale installations themed on information society and the human body since the 1980s. In 1990s, most of works are interactive media art installations incorporating human perception, eye tracking project molecular informatics at Canon Artlab (1996), about acoustic sense and an inner body sound at NTT Intercommunication Center's permanent collection (1997), gravicells on the theme of the gravity called the 6th consciousness in YCAM (2004). Her works have been exhibited and presented internationally, including Miro Museum (Spain, 1999), Musee des Beaux Arts de Nantes (France, 2000), Kulturhuset (Sweden, 2006), Kuenstlerhaus Vienna (Austria, 2010), National Art Museum of China/NAMOC (2011) and others. She also has exhibited works in the field of media art festivals around the world such as DEAF (Holland, 1995, 1996, 2004), transmediale Berlin (Germany, 2002, 2005, 2007), Share Festival (Italy, 2005), Ars Electronica (Austria, 2005), OOH Festival (Spain, 2006), MoiMulti Quebec (Canada, 2007), TESLA Berlin (Germany, 2007), Digital Culture Festival (UK, 2008). Published "Seiko Mikami Art works" at Diputacion Provincial De Malaga (Spain, 2004). Mikami is currently Professor of Media Art Lab at Tama Art University (Japan).