Artworks
In potēntia, 2012
Guy Ben-Ary and Kirsten Hudson
Australia
Mixed media (tissue engineering, electrophysiological recordings, iPS, computer controlled devises and sound, foreskin cell, stem cells, neurons)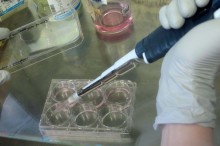 Guy Ben-Ary and Kirsten Hudson (AU). In potēntia, 2012. Mixed media installation, photo courtesy the artists. 2012 Photo by Guy Ben-Ary
In potēntia is a quasi-human hybrid that problematises bio-technologies' influence on understandings of "life". Beginning with foreskin cells purchased on-line, we use induced pluripotent stem cell technology to reverse engineer these foreskin cells into embryonic (like) stem cells and then further transform them into neurons. What results is a functioning neural network that not only challenges what it means to play with biological human matter in culturally unauthorised ways, but also makes us wonder what it means to make a living biological brain from foreskin cells.
"In-Potentia" is hosted in SymbioticA, The Centre of Excellence in Biological Arts, School of Anatomy and Human Biology at the University of Western Australia.
Credits: In collaboration with Mark Lawson, Stuart Hodgetts, Anne Kramer, and Mark Brims.
Credits: Laboratory Center of the University of Maribor
Biography

Guy Ben-Ary (b. 1967, Los Angeles, USA) is an artist and a researcher whose work uses emerging media, in particular biologically related technologies (tissue engineering, electrophysiology and optics). Ben-Ary is an artist in resident in SymbioticA at the University of Western Australia, Perth, WA, since 2000. He is a member of the core SymbioticA Research Group and spent 2006 working as a Research Fellow in the NeuroLab, Georgia tech (Atlanta, USA). Guy is a member of the Biokino collective that is developing the "living screen" project, collaborated with the Tissue Culture & Art Project for 4 years (1999–2003) and a member of the team that developed the award winning Silent Barrage. His work has been exhibited and presented internationally.

Dr Kirsten Hudson is a practicing artist and academic based in Western Australia. She is currently employed as a lecturer in the School of Design and Art and the School of Media, Cultural and Creative Arts at Curtin University as well as being an artist in resident at SymbioticA located in the University of Western Australia. Interested in critiquing dominant paradigms and ideologies associated with modern western cultural discourses surrounding subjectivity, embodiment and sociality, Hudson's research to date has focused on disrupting historical and classical western cultural constructs of femininity.