Artworks
MaSm Metatransformation, 2011
Maja Smrekar
Slovenia
A mobile temporary laboratory environment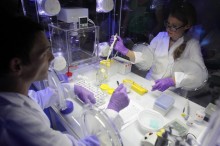 Maja Smrekar (SLO). MaSm Metatransformation, 2011. A mobile temporary laboratory environment, image courtesy the artist. 2011 Photo by Miha Fras
In this project the question is posed if there is a possibility, considering the consequences of potential global food deficit and drastic reduction of the value of material goods, that human molecular production capacity in the DNA, as one of the few uncolonized biotechnological materials, could become a trade tool (based on a system of genetic credit), which could become one of the next stages of evolution. By setting up the intersections of science, art and civil society, we therefore wonder who bears responsibility for our body? Are we the owners or just inhabitants of our bodies?
Credits: In collaboration with dr. Špela Petrič, Marko Žavbi. With special thanks to the Institute of Biochemistry, Medical Faculty, University of Ljubljana. Production: Kapelica Gallery – Zavod K6/4. The project has been executed within the financial support of the Ministry of Education, Science, Culture and Sport of the Republic of Slovenia and Culture Department of the Municipality of Ljubljana.
Credits: Domel Tehtnica d.o.o. and Laboratory Center of the University of Maribor.
Biography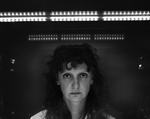 Maja Smrekar (b. 1978, Brežice, Slovenia) in 2005 graduated at the Sculpture Department of Fine Art and Design Academy in Ljubljana, currently finishing MA at the Video & New Media Department. Her main interest is based on the phenomenology of perception which she first started researching through space phenomena by composing live video among various collaborations in interactive sound/visual projects with other artists. Her main artistic focus remains at the intermedia art field. She has been collaborating with Kapelica Gallery in Ljubljana for the last five years and the Aksioma Institute in Ljubljana for the last three years where she has executed projects by researching frequency phenomena through biofeedback and thelematic presence, molecular biology and neuroscience in relations to body and (inter)subjective perception of space. During the last two years she has been developing projects within the field of bioart. In 2010 she organised International Intermedia Art Festival HAIP10/New Nature which took place at Multimedia Centre Kiberpipa (Cyberpipe) in Ljubljana where she has been active as an artistic director (2008–2010).