Artworks
Real Snail Mail
2008-ongoing
Boredomresearch
Vicky Isley and Paul Smith
United Kingdom
Network-based installation with RFID Technology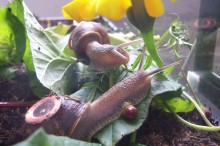 Vicky Isley and Paul Smith (UK). Real Snail Mail, 2008-ongoing. Network-based installation with RFID Technology. Courtesy of boredomresearch and [DAM] Berlin/Cologne. 2011 Photo by Kaupo Kikkas
Reversing the most enduring and ubiquitous, social economic paradigms of speed and efficiency, the Real Snail Mail webmail service, uses live snails to carry emails across physical space. Once you click 'send' your email travels at the speed of light to the server where it waits to be collected by a live snail. These snails are equipped with a tiny antenna and microchip, allowing assignment of emails if they pass over a 'collect' interrogator and delivery if they reach a 'forward' interrogator.
Credits: Advisors: Mark Segal, Josepha Sanna (Artsway) & Helen Sloan (SCAN), Engineers: Tim Orman & Chris Brown (DEC, Bournemouth University), SnailCAM Support: David Bell & Peter Dodds (Hoptic, Edinburgh).
Credits: Primož Modic, Heli Royal Golica
Biography

boredomresearch is a collaboration between Southampton UK based artists Vicky Isley (b. 1974, Bedford) and Paul Smith (b. 1975, Bedford). They are greatly inspired by the diversity that exists in nature. Using computational technology they explore this diversity to simulate natural patterns, behaviours and intricate forms that gradually change over time. All their artwork is computer-generated and includes interactive and public works of art, online projects, prints and generative objects. Their work has been exhibited worldwide in festivals, galleries and museums such as the KUMU Art Museum (Tallinn, 2011); Today Art Museum (Beijing, 2010); LABoral Centro de Arte y Creacion Industrial (Gijón, 2010); STRP Festival (Eindhoven, 2009); SIGGRAPH (Los Angeles, 2008); Haifa Museum of Art (Haifa, 2007); Netherlands Media Art Institute (Amsterdam, 2006); Transmediale.05 (Berlin, 2005); VIDA 7.0 (Madrid, 2004) and Garage Festival (Stralsund, 2002), among other venues. Their work has been featured in various arts and science publications/media including TIME Magazine, El Pais, Artinvestor, PAGE, Weave, Discovery Channel Canada and BBC World Services. boredomresearch are represented by [DAM]Berlin/Cologne.