Artworks
Prosthetic Head, 2003
Stelarc
Australia
Original software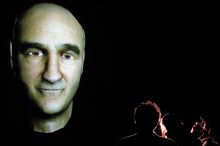 Stelarc (AU). Prosthetic Head (Construction), 2003. An embodied conversational agent, image courtesy the artist, 3D modelling: Barrett Fox. 2009 Photo by Amy Youngs
The Prosthetic Head is an embodied conversational agent – an automated, animated, informed and reasonably intelligent head that speaks to the person who interrogates it. The 3D model is a 3000 polygon mesh, skinned with the artist's face. The eyeball, tongue and teeth are separate moving elements. It has a data-base and a conversational strategy that when coupled to a human head is capable of appropriate verbal exchanges. Facial expressions and emotions can be scripted. It can compose and recite its own poetry-like verse and song-like sounds, which are different each time it is asked.
Credits:
Original software: Karen Marcelo, Sam Trychin, Barrett Fox. New version: Martin Luerssen, Trent Lewis with Associate Professor David Powers, Flinders University. From Talking Heads to Thinking Heads: (ARC/NH&MRC Thinking Systems). Leader: Prof. Denis Burnham, MARCS Labs, University of Western Sydney.
Biography

Stelarc (b. 1946, Limassol) is an Australian artist who has used prosthetics, robotics, VR systems, the Internet and biotechnology to explore alternate, intimate and involuntary interfaces with the body. His earlier work includes making 3 films of the inside of his body, amplifying body signals and 25 body suspensions with hooks into the skin. Some of his projects include the third hand, virtual arm, stomach sculpture, exoskelton, extended arm, movatar, prosthetic head, muscle machine, partial head and walking head. He is surgically constructing and stem cell growing an extra ear on his arm that will be internet enabled, making it a publicly accessible acoustical organ for people in other places. He has also been performing as his avatar from his Second Life site, exploring Second Life as a second skin. In 1997 he was appointed Honorary Professor of Art and Robotics at Carnegie Mellon University. In 2003 he was awarded an Honorary Doctorate by Monash University. In 2010 he was awarded the Golden Nica for Hybrid Arts in the Prix Ars Electronica. He is currently Chair in Performance Art at Brunel University West London. His artwork is represented by the Scott Livesey Galleries in Melbourne.