Artworks
The Drill Bot – Robot Partner 3.0, 2009
Stefan Doepner and Lars Vaupel
Slovenia / Germany
Drilling and climbing Robot (electronics, mechanics, pneumatics)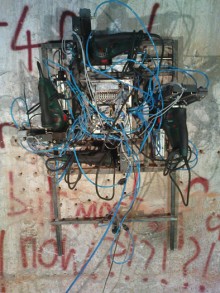 Stefan Doepner and Lars Vaupel (SLO/DE). DrillBot – Robot Partner 3.0, 2009. Autonomous robotics installation, image courtesy the artists. 2009 Photo by f18institute
f18labs are conducting R&D on robots for practical use, in the quest for robots to support people and make their lives more convenient. Building on its past expertise in developing robots for personal-use applications, f18 went further to the next level by developing a robot that can co-exist with people and provide services in a variety of places such as offices, homes and public facilities. The robot is comprised of 4 drill-heads, moving in 3 dimensions, 7 pneumatic actuators for the movement, and a CPU that controls the entire robot.
Biography

Stefan Doepner (b. 1966, Bremen, Germany) studied at the University of Arts (Bremen). His focus is on the artistic exploration of today's use, reception and rules of technology, to analyze and understand contemporary systems and techniques he acquires the method of reinvention. Co-founded several art groups and initiatives, including the f18institute in Hamburg, Cirkulacija2 and kud Obrat in Ljubljana. In 1992 he participated at the Documenta 9 project Van Gogh TV; since 1998 collaborates with Stelarc; in 2004 presented with f18institut Playground Robotics in Basel, Bern, Solothurn and Ljubljana; 2006 he participated at Steirischer Herbst, Graz and Smart 2006, Bremen; 2008 at Synthetic Times, Beijing and at Ars Electronica, Linz; 2009 he co-realized Prototype 11 within Cirkulacija2 at Kunsthaus Graz; 2010 he exhibited at Cabaret Voltaire in Zürich.

Lars Vaupel (b. 1962, Hamburg, Germany) studied electric engineering at the Technical College of Hamburg. His research focuses on the link between art and robotics, creating interactive systems. Vaupel is Co-founder of the f18institut (Hamburg), an artistic association for art, information and technology research. He has participated in exhibition tours with own artistic projects and artistic contract works in Germany, France, Italy, Switzerland, Austria and Japan. He has given lectures and workshops in various institutions, namely: Museum fur Kunst und Gewerbe (Hamburg), the Designskolen (Kolding), Fachhochschule Nordwestschweiz (Aarau), Muthesius-Kunsthochschule (Kiel), University of the Arts ZHdK (Zürich).