Artworks
Morphology / Face Shift, project in progress
Arthur Elsenaar and Remko Scha
The Netherlands
Video documentary film, 40 min, NL, in English, color, stereo, DVD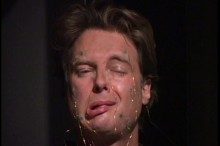 Arthur Elsenaar and Remko Scha (NL). Morphology / Face Shift, research project in progress, still from a color video. 2005 Arthur Elsenaar
Morphology / Face Shift presents a human face as it goes through a sequence of involuntary muscle contraction configurations, triggered by a digital computer. The first part of the piece shows continuous morphings between unrelated muscle contraction configurations. The second part shows regular patterns on both sides of the face, which become gradually out of sync and give rise to unusual anti-symmetric configurations.
Credits: Face-Interface technology, hardware design, display device: Arthur Elsenaar. Word processing, MIDI Software: Remko Scha. Generous support: The Institute of Artificial Art (Amsterdam, The Netherlands).
Biography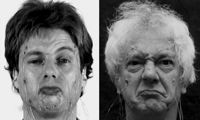 Arthur Elsenaar (b. 1962, Naarden, Netherlands) is an artist, electrical engineer and facial hacker. Since 1993, Elsenaar has investigated the computer-controlled human face as a site for artistic expression. He holds a PhD in Art and Design from Nottingham Trent University in the UK for his thesis entitled Facial Hacking: The Twisted Logic of Electro-Facial Choreography. Currently he is a lecturer at the ArtScience Interfaculty of the Royal Academy of Art and the Royal Conservatoire in The Hague, Netherlands. Elsenaar's work has been shown at many internationally renowned conferences, festivals and institutes such as Ars Electronica, ISEA, DEAF, SIGGRAPH and MIT Media Lab. In 2008, the Stedelijk Museum in Amsterdam acquired the algorithmic facial choreography work Face Shift for their permanent collection. He has been a core member of the Institute of Artificial Art in Amsterdam whose work received several awards; a Prix Ars Electronica honorary mention (1997), the Leonardo Award for Excellence (2003) for a paper on the history of electric performance art. For his most recent work, Elsenaar received the Technarte Best Speaker Award (2012) in Bilbao, Spain.

Remko Scha (b. 1945, Eindhoven, Netherlands) studied physics and computer science at the Technological University of Eindhoven from 1962–1970. Scha has organized a number of anarchistic music performances as member of The New Electric Chamber Music Ensemble and The Machines, his own electric guitar band. He designed an art generation algorithm named, Artificial and developed a model of human language-processing called, Data-Oriented Parsing. Scha is currently a professor of Computational Linguistics at the University of Amsterdam.