Artworks
The Tiller Girls, 2010
Louis-Philippe Demers
Singapore
Robots, video, custom hardware, custom software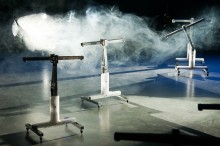 Image credits: Louis-Philippe Demers (SG). The Tiller Girls, 2010. An autonomous AI robots installation, image courtesy the artist. 2010 Photo by Ed Jansen
The Tiller Girls is a group of 12 small autonomous robots. These robots were developed in Artificial Intelligence for the study of gaits given minimal freedom of movements. The robots can only balance their torsos and shoulders but they can yet achieve a large variety of expressions and behaviors. Performers in the traditional performing arts such as music, dance and theatre are generally thought to have both technical skills and interpretive skills, where the latter skills are regarded as specific human skills.
Robotics: Raja Dravid, Max Lungarella, Dynamic Devices (CH). In collaboration with AI Lab Zürich. Producers: Interaction and Etertainement Research Centre, Digital Realities StartUp Grant (NTU).
Biography

Louis-Philippe Demers (b. 1959, Montreal, Canada) makes large-scale interactive installations, so far realizing more than 300 machines and participating in more than 70 stage productions. His works have been featured at major venues such as Lille 2004, Expo 1992 and 2000, Sonambiente, ISEA, SIGGRAPH and Sonar. He received four mentions at Ars Electronica, the Distinction of Prix Ars 96, the first prize of Vida 2.0, a mention at Vida 12.0, the prize for Lightforms 98 and six prizes for Devolution in 2006. He was Professor at the scenography department of the HfG/ZKM then he joined the Nanyang Technological University as PI at the Interaction and Entertainment Research Centre and Associate Professor at the School of Art, Design and Media.