Artworks
Fly Blimps, 2010
David Bowen
USA
Mixed media sculpture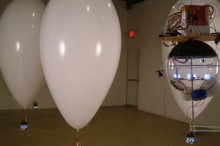 David Bowen (USA). Fly blimps, 2010. Mixed media sculpture, photo courtesy the artist. 2010 Photo by David Bowen
This installation consists of a series of autonomous helium-filled blimps whose movements are determined by small communities of houseflies. The flies are the brain of each of the devices, determining how they interact and respond to the space and the other devices. Up to 50 houseflies live within chambers attached to each blimp unit. These chambers contain food, water as well as sensors that detect the movements of the flies. In real-time this information is sent to motorized propellers that direct the devices within the space. The wandering blimps are separate but intersecting community vehicles. The flies exist in their own self-contained worlds creating an amplified expression of group behavior.
Credits: Akvarij-Terarij Maribor
Biography

David Bowen (b. 1975, Indianapolis, IN) received his BFA from Herron School of Art in 1999 and his MFA from the University of Minnesota, Minneapolis in 2004. His work has been featured in numerous group and solo exhibitions including: ArtBots (New York, NY, 2003), New Media Art Festival (Bangkok, 2005), Robotix (Brussels, 2006), On Growth and Form (Rochester, MN, 2007), Brainwave (New York, 2008), if/then (Philadelphia, PA, 2009), Data+Art (Pasadena, CA, 2009), Aesthetic Data (Moscow, 2010), SIGGRAPH (Vancouver, 2011), Transmediale (Berlin, 2012). His work has been featured in publications such as: Art in America, Leonardo and Sculpture Magazine. He was recently awarded Grand Prize in The Japan Media Art Festival (Tokyo), 3rd Prize in the Vida 12.0 Art and Artificial Life International Awards (Madrid) and a best in show award in Alternative Now: The 14th Media Art Biennale (Wroclaw). He has given lectures in various educational institutions, namely: Washington University (St. Louis), California State University (Sacramento), the University of Washington (Seattle), Arts and Intercommunication Center (Tokyo). He is currently an Associate Professor of Sculpture and Physical Computing at the University of Minnesota, Duluth.