Artworks
Fly Tweet, 2012
David Bowen
USA
Mixed media sculpture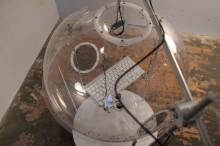 David Bowen (USA). Fly tweet, 2012. Mixed media sculpture, photo courtesy the artist. 2012 Photo by David Bowen
Follow the flies in Maribor
https://twitter.com/flycolony
This installation will send twitter messages based on the activities of a large swarm of houseflies. The houseflies will live inside an acrylic sphere along with a computer keyboard. As the flies move and interact inside their acrylic sphere home they will fly over the keys on the keyboard. These movements will be collected in real-time via video. As a particular key is flown over by the flies the key's corresponding character is entered into a twitter text box. When 140 characters are reached in the text box or the flies fly over the "enter" key the message containing the accumulated characters is tweeted. Thus twitter messages are sent in real-time based on the predilections of the flies.
Credits: Thanks to Andrew Spitz for the Max to Twitter tutorial, Christopher Baker for help with Java Script; and Akvarij-Terarij Maribor.
Biography

David Bowen (b. 1975, Indianapolis, IN) received his BFA from Herron School of Art in 1999 and his MFA from the University of Minnesota, Minneapolis in 2004. His work has been featured in numerous group and solo exhibitions including: ArtBots (New York, NY, 2003), New Media Art Festival (Bangkok, 2005), Robotix (Brussels, 2006), On Growth and Form (Rochester, MN, 2007), Brainwave (New York, 2008), if/then (Philadelphia, PA, 2009), Data+Art (Pasadena, CA, 2009), Aesthetic Data (Moscow, 2010), SIGGRAPH (Vancouver, 2011), Transmediale (Berlin, 2012). His work has been featured in publications such as: Art in America, Leonardo and Sculpture Magazine. He was recently awarded Grand Prize in The Japan Media Art Festival (Tokyo), 3rd Prize in the Vida 12.0 Art and Artificial Life International Awards (Madrid) and a best in show award in Alternative Now: The 14th Media Art Biennale (Wroclaw). He has given lectures in various educational institutions, namely: Washington University (St. Louis), California State University (Sacramento), the University of Washington (Seattle), Arts and Intercommunication Center (Tokyo). He is currently an Associate Professor of Sculpture and Physical Computing at the University of Minnesota, Duluth.