Screenings
THE PROMETHEUS CENTER (RU)
Prometheus – Kazan, Russia
Under support of Ministry of Culture of the Republic of Tatarstan (Russia), TV and Radio Company Tatarstan
Tuesday, December 4, at 7 pm
MMC KIBLA, Maribor
Thursday, December 6, at 6 pm
KGLU, Slovenj Gradec

Duration: 60 min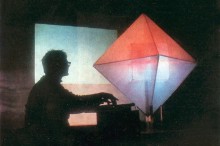 Bulat Galeev and Prometheus Institute (RU). Crystal, 1965, a light music Instrument. Copyright Prometheus Institute
In 1962, for the first time in the Soviet Union, a symphony Prometheus by the composer A. Skryabin was performed in Kazan, the section of light included, as was originally intended by the author at the beginning of the XX century. Since then the idea of the synthesis of music and light came to be essential for artists and engineers who first formed an engineering bureau, and then a research institute of experimental aesthetics Prometheus. Bulat Galeev (1940–2009) was the head and initiator of all the projects of the group and co-editor of Leonardo journal (MIT Press). He regarded the creation of art works on the intersection of art and science as a full-fledged trend where the fantasy of authors can be unlimitedly extended with the use of the latest engineering developments.
Multi-media concerts and performances, light and sound films and video installations, projects on light architecture – artists from Kazan were searching and finding unusual solutions for their experiments in all of these fields. Today the pioneering experience of Dr. Prof. Galeev and the Prometheus Institute in the development of the foundations of multi-media art is well-recognized by experts from all over the world (screenings at Аrs Electronica, ISEA, EMAF, etc.), and films of the group from the 1960'–80's are duly regarded as classics of avant-garde cinema. Currently the Prometheus Centre carries on its activities – once in two years interdisciplinary conferences and festivals on art and experimental aesthetics are held in Kazan.
The SOFT CONTROL educational program will premiere a film on the work of Bulat Galeev and the most prominent projects of the Prometheus Centre that were carried out over the last 50 years. Written by: L. Zagidullina, A. Maksimova, directed by: A. Bikbulatov.
For more information: http://prometheus.kai.ru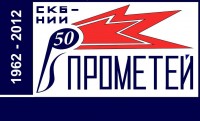 MMC KIBLA
Tuesday, December 4, at 7 pm
KGLU, Slovenj Gradec
Thursday, December 6, at 6 pm