Lectures/Workshops
The Theremin Kitchen Workshop
Andrey Smirnov (Russia)
December 13–15, 2012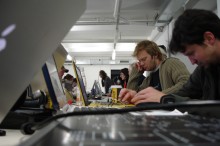 Andrey Smirnov (Russia). The Theremin Kitchen Workshop. Image courtesy the artist. Copyright Andrey Smirnov
Day 1: Thursday, December 13 (9 a.m.–5 p.m.)
Day 2: Friday, December 14 (10 a.m.–5 p.m.)
Day 3: Saturday, December 15 (10 a.m.–7 p.m.)
This intensive workshop offers hands-on introduction to interactive systems, based on various methods of motion tracking, gestural interfacing, monitoring of small variations of electrical parameters of different conductive materials including a human body, liquids, plants, metal objects, foil and metal threads, thin metallized plastic films etc. As a starting point of the workshop participants will convert their laptops into digital multichannel theremins to develop further during the workshop unusual gestural interfaces and unique musical instruments, based on principles similar to the well known electronic musical instrument the theremin, invented by the Russian inventor Leon Theremin in 1919. Daily theoretical introductions which accompany the workshop give detailed technical overview of the sensor technology and construction, basic principles of operation of the theremin based systems, art and music applications, useful concepts and ideas, condensed historical content related to almost forgotten historical facts. The workshop is oriented on sound and media artists, composers and musicians, who have particular interest in sound art and interactive systems, forgotten history and musical technology in general. Participants should bring their laptops and have some basic skills in MAX/MSP or PD programming. Various kinds of analog and digital USB theremin-sensors, different stuff for antenna construction as well as all appropriate software libraries for testing, experimenting and performance will be provided by the instructor.
Information:
Tanja Grosman
E: tanja.grosman@kibla.org
T: 059 076 371
M: 031 682 579
Biography

Andrey Smirnov (1956, Moscow, Russia) is an interdisciplinary artist, independent curator, composer, author, educator, researcher and developer of interactive computer music techniques. He is a founding director and the senior lecturer of the Theremin Center at Moscow State Conservatory and the lecturer at the Rodchenko School of Photography and Multimedia where he teaches courses on the basics of Electroacoustic Music, recent Computer Music technologies and Physical Computing. He has conducted numerous workshops and master classes, curate a number of exhibitions in Russia, Europe and the U.S., attended various festivals and conferences. He is collecting and keeping unique archives on the history of Music Technology and Sound Art in the early 20th century Russia as well as original historical electronic musical instruments, combining deep research into the history of music technology with extensive experience of computer assisted composition and interactive performance.