Artworks
Carnivorous Domestic Entertainment Robots, 2009
James Auger and Jimmy Loizeau
United Kingdom
Lampshade Robot, Mousetrap Coffee Table Robot, U.V. Flykiller Parasite Robot, Flypaper Robotic Clock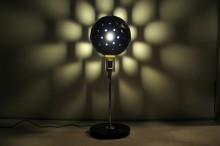 James Auger, Jimmy Loizeau (UK). Carnivorous Domestic Entertainment Robots, 2009. Photo courtesy the artists. 2009 James Auger, Jimmy Loizeau & Aleksandar Zivanovic
What would robots look and behave like if their design was decoupled from the normative systems that inform their form and function?
For this project we have re-imagined the entertainment robot, shifting away from the friendly pet-like device towards a sinister and more complex mode of interaction.
The robots rely on flying insects and rodents for energy (via a microbial fuel cell). It is in the staged hunting process that they manufacture intrigue, anticipation and an existential spectacle of life and death. The resultant robots represent a new class of object existing somewhere between the natural and the artificial.
Biography

James Auger (b. 1970, Derby, England) and Jimmy Loizeau (b. 1968, St. Asaph, Wales) have been collaborating on projects since the Audio Tooth Implant concept was conceived whilst at the Royal College of Art in 2001. Post R.C.A. they worked at Media Lab Europe in Dublin as research associates. Auger and Loizeau have taken part in group exhibitions in the UK and abroad, including Don't tempt me (ICA, London; MoMA, New York, 2001), Future products (London, 2002), Mobilise (Dublin, 2003), Open Borders (Lille, 2004), Betes de style (MUDAC, Lausanne, 2006), Philips Design exhibition (Eindhoven, 2007), Design and the Elastic Mind (MoMA, New York, 2008), What If (Dublin, 2009), Action! Design over Time (MoMA, New York, 2010–2012), New Energy in Art and Design (Rotterdam, 2012). They have participated in festivals such as Experimenta (Lisbon, 2003), ISEA (San Jose, 2006), Transmediale (Berlin, 2010) and Tech Fest (Mumbai, 2011) as well as art and design conferences in Basel, Seoul, Berlin and New York. They were awarded Designer of the Year from the Köln School of Design and Top 100 designs of 2002 from Time magazine, and received honorary mention at Ars Electronica (Linz, 2004). Auger and Loizeau are currently based in London and lecture at the Royal College of Art and Goldsmiths University.