Artworks
The Origin of Creatures, 2010
Floris Kaayk
The Netherlands
Animation film, 11'40", NL, color, stereo, DVD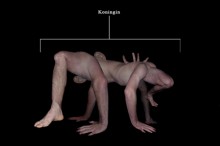 Floris Kaayk (NL). The Origin of Creatures, 2010. Sketch for movie, image courtesy the artist. 2010 Floris Kaayk
The Origin of Creatures is inspired by the biblical story of the Tower of Babel and is set in an imaginary future where the world is hit by a catastrophe. Among the remains of a devastated city lives that what is left of humanity. Human bodies are divided into separated parts of the body and are fused to special beings. Together, these creatures form a colony. In the rubble of destroyed buildings they are trying to build a nest as large and as high as possible, so that their queen gets enough sunlight to reproduce.
Credits: Director: Floris Kaayk, Producer: SeriousFilm / Marc Thelosen, Director of Photography: Reinier van Brummelen, Composer: Lennert Busch, Sound design: Bart Jilesen
Biography

Floris Kaayk (b. 1982, Tiel, Netherlands) graduated cum laude at the animation department of the St. Joost Academy and received his Master of Fine Arts degree at the Sandberg Institute. During these studies he developed a fascination for the world of insect, evolution, technology and dark futuristic visions. These themes form the basis for, his first film, the animated nature documentary The Order Electrus he made in 2005. A year later Kaayk completed his second shortfilm, Metalosis Maligna (2006), a fictional documentary about a disease which happens to people with a medical implant in their bodies. Both films were rewarded with several awards. In 2010 he finished The Origin of Creatures, in which Kaayk presents post-apocalyptic world, with silent mutated body parts as residents. A group of fingers find an eye ball, and soon they come bundled with legs. As Industrious insects they try to build a new structure of the ground to get order in the chaos. The Origin of Creatures won 9 festival awards and was picked as the Dutch entry for the Academy Awards 2011.