Screenings
CENTER FOR ART AND CULTURE MEDIAARTLAB (RU)
MediaArtLab – Moscow, Russia
Tuesday, November 27, at 7 pm
MMC KIBLA, Maribor
Thursday, November 29, at 6 pm
KGLU, Slovenj Gradec
Duration: 60 min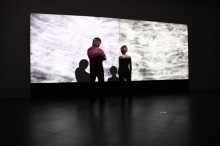 Boris Debackere (NL). Probe, 2008, an interactive installation in the frames of XIII MIFF Media Forum exhibition "The Immersion: Towards the Tactile Cinema" at Ekaterina cultural foundation, Moscow, 2012
MediaArtLab was founded as an independent organization in 1999 with the intention to build a bridge between activities in the fields of culture and new information and communication technologies. At the present date MediaArtLab is one of the leading organizations in Russia in the field of media art. Our main priorities are to develop interdisciplinary educational projects in the art of new technologies and media culture and to organize events popularizing new methods and ideas in exploiting new technologies' potential or presenting separate periods and trends in media culture appropriation.
The list of main projects includes: Media Forum of the Moscow International Film Festival, International symposium for media culture "Pro&Contra" and many others. For the past 13 years MediaArtLab conducted educational programs all-over Russia, as well as numerous large-scale exhibitions at various partner venues (Moscow MOMA, Center for contemporary culture Garage, Ekaterina cultural Foundation and others). In the frames of the SOFT CONTROL: Art, Science and the Technological Unconscious project MediaArtLab will present works which demonstrate different aspects of new visual language. The program is curated by Olga Shishko (Director MediaArtLab) and Elena Rumyantseva (MediaArtLab Head of Programs).
EXPANDED CINEMA
Screening program
Arev Manoukian (Canada), Nuit Blanche, 2010, digital video, colour/sound, 4′ 41". Courtesy of Stellar Scene and SpyFilms.
Paul Clipson (USA), Light from the Mesa, 2010, 6′ 00", super 8 mm film (screened on DVD). Music by Barn Owl. Courtesy of the artist.
Alexandra Kuznetsova (Russia), Three colours. White? Three colours. Grey? Three colours. Red?, 2012, 5′ 00". Courtesy of the artist.
Yang Fudong (China), The Nightman Cometh, 2011, 19′ 21", soundtrack by Jin Wang. Courtesy: Yang Fudong, ShanghART Gallery and Marian Goodman Gallery.
Taus Makhacheva (Russia), Bullet, 2010, 4′ 39", Courtesy of the artist.
Bill Morrison (USA), Release, 2010, 13′ 00", Sound design by Vijay Iyer, Produced by Julie Courtney. Courtesy of the artist.
Anri Sala (Albania/France), Answer Me, 2008, 4′ 51", Courtesy: Marian Goodman Gallery, New York, Gallery Hauser & Wirth, Zürich, London, Galerie Johnen Schöttle, Berlin, Cologne, Munich, Galerie Chantal Crousel, Paris.
Jesper Just (Danmark/USA), Sirens of Chrome, 2010, 12′ 38″, RED transferred to Blu-ray. Courtesy: James Cohan Gallery, Galerie Emmanuel Perrotin, and Galleri Nicolai Wallner. Copyright © Jesper Just 2010.
For more information: http://www.mediaartlab.ru

MMC KIBLA
Tuesday, November 27, at 7 pm
KGLU, Slovenj Gradec
Thursday, November 29, at 6 pm