ARTWORKS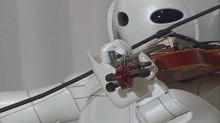 Martin Hans Schmitt: Robot World, 2010, Co-produced and presented by body>data>space and FACT in Robots and Avatars Exhibition, 2012, Installation view at FACT, Photographer: Brian Slater
Genre: non-verbal documentary
Length: 61 min
Production format: Digital Betacam (PAL), 16:9 Widescreen
Director, Editor, Executive Producer: Martin Hans Schmitt
Composer: Matt Howden
Robot world – a meeting with your alternate double
The non-verbal documentary Robot world depicts the evolution of robots from a mechanical somnambulist to an autonomous sensorium. The neoclassical violinist Matt Howden emphasizes the film's message: these artificial people are our alternate doubles.
Robot world is a compilation. The source material for this one-hour film comes from robot laboratories at universities, from private footage at industrial fairs, military archives and corporate videos from the robot industry. Motion pictures of old 16 mm films from the 1930's were added. This non-verbal documentary was recycled from far in excess of one hundred hours of raw material.
There is no recognizable narrative structure to Robot world. This non-verbal documentary works with the open structure of a topic's pattern. This thematic pattern can be found in the individual parts of Robot world and demonstrates that the construction of robots is in fact evolutionary. This applies to both, the exterior as well as the interior level. The exterior evolutionary line of machine beings begins with a "protozoon" in the form of nano-robots, advances to the development of arms, hands and legs as well as to insect-type swarm beings and even develops cold-blooded animals, mammals and humanoid robots. This biological development is accompanied by an imitation of typically human activities such as discovering rooms, being a playmate for children, leading wars or performing operations on a human body. These imitations are like a trace of the interior evolutionary line of robots.
Matt Howden's music wraps itself around the film; the violin, often linked to the human voice, is here the voice of the robots: their expression, their functionality, and their aspiration.
www.martinhansschmitt.com
http://www.martinhansschmitt.com/robot_world.html
Biography

Martin Hans Schmitt has completed the University of Television and Film Munich. Since 2003, he produces research and instructional films for the Ludwig-Maximilian University Munich. The German filmmaker also produces stereoscopic 3D films and essayistic documentaries.
Homepage: http://www.martinhansschmitt.com

Filmography
Robot World – A Meeting with Your Alternate Double
Non-verbal documentary, Digital Betacam, 61 min, 2010
Director, editor and executive producer
Festivals: Festival International Des Programmes Audiovisuels, 2011, Biarritz, France, Buenos Aires Festival Internacional De Cine Independiente, 2011, Buenos Aires, Argentina, Festival Internacional De Cine Independiente De Mar Del Plata, 2011, Buenos Aires, Argentina, Robots + Avatars project, 2011, UK

Highway World - living, changing, growing
Non-verbal documentary, Digital Betacam, 81 min, 2007
Director, camera, editor and executive producer
Festivals: Globians Film Festival 2008, Potsdam/Berlin, Germany, Jihlava International Documentary Film Festival 2008, Czech Republic, Torino International Film Festival, 2008, Italy, Cameraplus International Film Festival of the Art of Cinematography Lodz, 2008, Poland, Bogota Film Festival, 2009, Colombia, Buenos Aires Festival de Cine Independiente 2011, Buenos Aires, Argentina, Festival Internacional de Cine Independiente de Mar del Plata 2011, Mar del Plata, Argentina

Pornotalk – Von Pfandflaschen und Traumfrauen (Porno talk – about Deposit Bottles and Dream Girls)
Documentary film, DVCAM, 44 min, 2005
Director, camera, editor, executive producer
Festivals: International Documentary Film Festival Munich 2006, Short Film Festival Landshut 2006, Mainz Film Festival 2006 Award: International Documentary Film Festival Munich 2006 (New Films from Bavaria, Avid Support Prize)

Cyber-Heidi 3D
Short Film (Science-Fiction/Comedy), 3D-Video, 15 min, 2001
Co-production: Bayerischer Rundfunk/arte, HFF Munich
Producer & Editor
Awards: 2003 International Festival for Cinema and Technology, New York/USA, Categories: 1st prize: Best Student Film; 2nd prize: Best Special and Visual Effects/Best Director) Institute for Evaluation of Films in Wiesbaden: evaluated as 'valuable'
Nominated for Prix Europa 2003
Technological support for the construction of a digital 3D-camera by German Federal Film Board