ARTWORKS
Created in occasion of Marshall McLuhan's Centennial Celebrations, the Electronic Man is a global performance which has managed to create a synthetic digital sense for thousands of people. Stickers with QRCodes and the image of the Electronic Man have been disseminated in cities all over the world. People from all nationalities have agreed to participate to the planetary performance by scanning the codes using their smartphones and contributing their emotional states to the connective body that took shape through their contributions.
As the performance moved along thousands of people downloaded a smartphone application: whenever anyone scans one of the stickers, everyone else's phone vibrates. A vibration, a physical stimulation right in the pockets of people, stimulating their bodies as a new synthetic sense instantly reacting to a digital interaction happening anywhere in the world. A suggestive example of how technologies can interconnect people from all cultures, nationalities and backgrounds. As of today, whenever anyone scans one of the QRCodes of the performance, around 40 thousand people's smartphones vibrate, across all continents.
"Electronic man like pre-literate man, ablates or outers the whole man. His information environment is his own central nervous system." McLuhan in Counterblast, 1969.
The performance has been created by FakePress Publishing and Art is Open Source, with the support of MediaDuemila Magazine and of The University of Rome "La Sapienza", under the scientific direction of professor Derrick de Kerckhove.
http://www.youtube.com/watch?v=kFdRPeQXw00
http://www.youtube.com/watch?v=3hHajS-oL5M
http://www.youtube.com/watch?v=gj5ecG2CCuQ&feature=related
Biography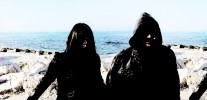 Salvatore Iaconesi (xDxD.vs.xDxD) and Oriana Persico (penelope.di.pixel) propose a new form of art, bringing together poetics and politics, bodies and architectures, squats, revolutionary business models. United in life and professionally, the duo operates under the brand of Art is Open Source and FakePress Publishing, performing actions focused on enacting a possibilistic vision of the world in which art unites sciences, politics, anthropology and economy. This is the process that, through the years has brought to life: Angel_F, the first artificial intelligence to ever participate to UN's Internet Governance Forum to defend its digital rights; Dead on Second Life, in which Karl Marx, Franz Kafka and Coco Chanel came back to life on Second Life under the form of autonomous intelligent avatars; OneAvatar, an overall suit connecting the physical body to the digital body of the avatar; ConnectiCity, urban surfaces transformed into spaces for the expressions of citizens; Squatting Supermarkets, in which logos become place for autonomous information publication using augmented reality; Consciousness of Streams, an ubiquitous publication by 35000 authors enacting a realtime emotional map of the world; REFF, a fake cultural institution focused on the systematic reinvention of reality and on the creation of global cultural policies. Salvatore and Oriana have defined the term NeRVi – NeoRealismo Virtuale, Virtual NeoRealism – to describe their actions: the vision of a world in which multiple layers of digital and analog relaties can fluidly interweave.
Sites:
http://www.artisopensource.net http:/www.fakepress.it