ARTWORKS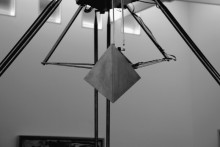 Ruairi Glynn / Motive Colloquies (UK): Sociable asymetry (Družabna asimetrija), RACIF produkcija 2012
As sensing, computation and actuation saturate our built environment, our virtual and physical worlds are hybridising. Our buildings are becoming responsive to our occupation, sensitive to our emotions and responsive to our gestures. Our buildings are becoming robots and avatars and communicate with us in the near future through their own movements and gestures.
The Sociable Asymetry is unique architectural scale robot that at first appearance when static is simply a towering structure. The aluminium frame is giving no visual clues that it is in fact a living and sociable creature that comes to life as people draw closer. Its movements are uncanny, so human in motion, yet so inhuman in form.
It will challenge the public to consider how perception of movement and interaction are paramount in how we relate to our physical and virtual worlds above and beyond the perception of form and scale.
Led by Ruairi Glynn, an internationally award winning robotics and installation artist, a European team of architects, performance artists, puppeteers and interaction designers collectively calling itself Motive Colloquies is developing work examining the design of kinetic and performative architecture.
www.ruairiglynn.co.uk
http://www.motivecolloquies.com/
www.fabricate2011.org
www.passagesthroughhinterlands.com
http://www.ruairiglynn.co.uk/exhibitions/london-tate-modern/
Team leader Ruairi Glynn (UK/Eire)
Team members
Ciriaco Castro (Spain), Architect & Computational Designer, Amanda Levete Architects
Sigridur Reynisdottir (Iceland), Puppeteer & Performance Artist
Enrique Ramos (Spain), Architect, Director of ESC-Studio
Nicholas Waters (UK), Performance Artist & Choreographer
Miriam Dall'Igna (Brazil), Architect & Fabrication Specialist, Fosters & Partners
Hugo Mulder (Netherlands), Senior Engineer Arup
George Profenza, Technical support
Biography

Ruairi Glynn is an installation artist and curator. Since 2005 he has been developing interactive robotic environments. His work examines gestural interaction between inhabitant and architecture, through the use of sensory and servo-motor actuated systems. Recent exhibitions include the National Art Museum of China in Beijing, Pompidou Centre, Paris, Los Angeles' Beall Centre of Art & Technology, Seoul's SOMA, Sao Paulo's Itaú Cultural and Madrid's International Contemporary Art Fair, leading to a international awards including the Europrix, European Award for Digital Media and the Concurso Internacional de Arte y Vida. In 2010 he was awarded an Engineering & Physical Sciences Research Council scholarship to support doctoral research on the animation of architecture through robotics. He is 'Lecturer in Architectural Robotics' at the Bartlett School of Architecture, University College London and 'Associate Lecturer in Interaction Design' at Central Saint Martins, University of Arts London. Collaborating across design disciplines through digital and analogue practices, he and his students develop responsive environments, from hybrid materials and software systems up to architectural scale installations. For more information visit www.ruairiglynn.co.uk

Sociable Asymmetry is a 2011–12 development commission for the Robots & Avatars project. Commissioned by body>data>space and the National Theatre in association University College London. The project is funded by the EU Culture programme with additional support from Arts Council of England.