KURATOR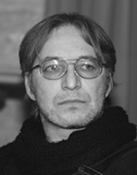 Dmitry Bulatov
Dmitry Bulatov (r. 1968, Kaliningrad, Rusija) je umetnik, raziskovalec in umetnostni teoretik. V svojem raziskovalnem delu se osredotoča na različne vidike interdisciplinarnih umetniških medijev (sci-art, tehno-biološke umetnosti, itd.) in estetiko submedialnosti.
Bulatov je avtor številnih člankov na temo umetnosti in novih tehnologij ter urednik knjig in antologij, kot so Ex-poetry (Malbork, 1996), Point of View (Olsztyn, 1998), Homo Sonorus (Kaliningrad, 2001), BioMediale: Contemporary Society and Genomic Culture (Kaliningrad, 2004), Evolution Haute Couture: Art and Science in the Postbiological Age (I. del, Kaliningrad, 2009). Njegova dela so bila predstavljena po številnih mednarodnih prizoriščih, med drugim na razstavah Bunker Poetico (49. Beneški bienale, 2001), Davaj! Russian Art Now (Berlin–Dunaj, 2002), Brain Academy Apartment (50. Beneški bienale, 2003), 3durch3 (Kassel, 2004), Eastern Neighbours (Utrecht, 2006), Technology Expanding the Horizon (Columbus, 2007), Senses Alert (Berlin, 2008), Corpus Extremus LIFE+ (New York, 2009), Russian Utopias (Moskva, 2010), Life. Version of Science (Moskva, 2011) in drugod. Bulatov se je udeleževal tudi številnih festivalov, naj omenimo Mednarodni filmski festival (Moskva, 2001, 2007, 2008), Radiotopia (ORF, Ars Electronica, 2002), Berliner Festspiele (Berlin, 2003), SKIF-8 (Sankt Peterburg, 2004), Up to date (Santiago, 2006), SciArtFest (Moskva, 2009), The Unheard Avantgarde (Kopenhagen, 2011), Pro&Contra (Moskva, 2011), Global Future 2045 (Moskva, 2012) ter drugod. Predaval je na več akademskih institucijah po Rusiji (Muzej Hermitage, Državna galerija Tretyakov), ZDA, Kanadi, Nemčiji, Nizozemskem, Mehiki, Singapurju in Hong Kongu. Leta 2007 je revija Wired uvrstila eno izmed njegovih umetniških del na lestvico najboljših 10 svetovnih inovacij. Je prejemnik širokega spektra nagrad in štipendij, med drugim državne nagrade za inovativnost na področju sodobnih vizualnih umetnosti (National Innovation Award for Contemporary Visual Arts, 2008).
Dmitry Bulatov je trenutno zaposlen kot višji kustos Baltskega oddelka Nacionalnega centra za sodobne umetnosti, deluje pa tudi kot vodilni strokovnjak Središča za inovacije na Baltski zvezni univerzi (Kaliningrad, Rusija).