Umetniška dela
Malamp: pojav deformacij pri dvoživkah
Brandon Ballengée
ZDA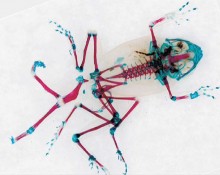 Brandon Ballengée (ZDA). Malamp Reliquaries, 1996 – še traja. Unikatni IRIS odtisi na vodno-barvnem papirju. 2003–07. Z dovoljenjem Ronald Feldman Fine Arts, New York in Verbeke Galley, Antwerpen
Malamp relikvariji, 1996 – še traja
Visoko-resolucijski skenirani portreti kemično očiščenih in razbarvanih primerkov. Unikatni IRIS odtisi na vodno-barvnem papirju. Z dovoljenjem družbe Ronald Feldman Fine Arts, New York in Verbeke Galley, Antwerpen.
Styx, 2010–12
Očiščeni in obdelani primerki pacifiške drevesne žabe z več okončinami (Hyla regilla), zbrani v Aptosu v Kaliforniji. V znanstvenem sodelovanju z dr. Stanleyjem K. Sessionsom. Z dovoljenjem družbe Ronald Feldman Fine Arts, New York.
Že več kot desetletje je bila osrednja praksa Ballengéejevih primarnih bioloških raziskav ter predmet njegovih umetniških del razkrivanje skrivnosti razvojnih anomalij pri dvoživkah v naravnem okolju. Dvoživke so pomemben okoljski indikator, njihova populacija pa je v zadnjih letih doživela zaskrbljujoč upad po vsem svetu. Umetnik in biolog Brandon Ballengée je opravil številne mednarodne raziskave, pri tem pa sodeloval z vrsto drugih raziskovalcev in na stotinami sodelujočih pripadnikov širše javnosti.
Biografija

Brandon Ballengée (r. 1974, Sandusky, ZDA) ustvarja transdisciplinarna umetniška dela, navdihnjena z raziskavami s področja ekologije in laboratorijskimi raziskavami. Svoja dela je predstavil na številnih razstaviščih, med drugim z nedavnimi samostojnimi razstavami v Ronald Feldman Fine Arts (New York), PAV Centro d'Arte Contemporanea (Torino) ter The Royal Institution of Great Britain (London). Razstavljal je tudi na več bienalih in festivalih, naj omenimo: Geumgang Nature Art Biennale (2004, Južna Koreja), Venice Biennale (2005, Italija), Biennale for Electronic Arts Perth (2007, Avstralija), 3. Moscow Biennale (2008, Rusija), Transmediale 11 (2011, Nemčija) ter Prospect 2 New Orleans (2011, ZDA). Ballengéejevi projekti so dali snov trem nedavno izdanim knjigam: Malamp: The Occurrence of Deformities in Amphibians (Arts Catalyst & Yorkshire Sculpture Park, Velika Britanija), Praeter Naturam (PAV Centro d'Arte Contemporanea, Italija), From Scales to Feathers (Lafayette College, ZDA, Shrewsbury Museum, Velika Britanija in Verkebe Gallery, Belgija). Trenutno so-ustanavlja urbani ekološki laboratorij v svojem umetniškem studiu na Manhattnu ter zaključuje doktorski študij v sodelovalnem programu med Univerzo v Plymouthu (Velika Britanija) in ZHdK (Švica).