Umetniška dela
Mušji tweet, 2012
David Bowen
ZDA
Mešana medijska skulptura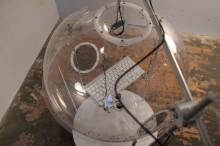 David Bowen (ZDA). Fly tweet, 2012. Mešana medijska skulptura, fotografija z dovoljenjem umetnika. 2012, foto David Bowen
Sledite objavam muh v Mariboru
https://twitter.com/flycolony
Instalacija omogoča pošiljanje twitter sporočil na osnovi aktivnosti velikega roja muh. Muhe živijo v akrilni krogli, v kateri je računalniška tipkovnica. Med svojim gibanjem in interakcijo preletavajo tipke na tipkovnici. Njihovi premiki so zbrani v realnem video prenosu. Ko preletijo določeno tipko, je ustrezen znak vpisan v twitter tekstovno polje. Ko je polje polno oziroma vsebuje 140 znakov ali ko muhe preletijo tipko 'enter', je sporočilo poslano. Twitter sporočila so poslana v realnem času glede na vedenje muh.
Zahvala: Andrewu Spitzu za učne ure iz Twitterja in Christopherju Bakerju za pomoč z Java Scriptom; ter Akvariju-Terariju Maribor.
Biografija

David Bowen (r. 1975, Indianapolis, ZDA) je diplomiral iz likovne umetnosti na Herron School of Art leta 1999, magisterij pa zaključil na Univerzi v Minnesoti leta 2004. Njegova dela so bila razstavljena na številnih skupinskih in samostojnih razstavah, kot so: ArtBots (New York, 2003), New Media Art Festival (Bangkok, 2005), Robotix (Bruselj, 2006), On Growth and Form (Rochester, 2007), Brainwave (New York, 2008), if/then (Philadelphia, 2009), Data+Art (Pasadena, 2009), Aesthetic Data (Moskva, 2010), SIGGRAPH (Vancouver, 2011) in Transmediale (Berlin, 2012). Objave njegovih del so obogatile publikacije, kot so Art in America, Leonardo ter Sculpture Magazine. Nedavno je postal dobitnik velike nagrade na Japan Media Art Festival (Tokio), dobil je tudi 3. nagrado na podelitvi Vida 12.0 Art and Artificial Life International Awards v Madridu ter nagrado za najboljše delo na Alternative Now: The 14th Media Art Biennale (Wroclaw). Predaval je po številnih izobraževalnih institucijah: Washington University (St. Louis), California State University (Sacramento), University of Washington (Seattle), Arts and Intercommunication Center (Tokio). Trenutno je zaposlen kot izredni profesor kiparstva in računalništva na Univerzi v Minnesoti (Duluth, ZDA).