Umetniška dela
Mesojedi hišni roboti, 2009
James Auger in Jimmy Loizeau
Velika Britanija
Robotska svetilka, robotska namizna mišelovka, robotski UV muholovec – parazit, robotska ura muholovka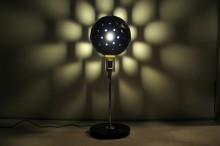 James Auger, Jimmy Loizeau (VB). Carnivorous Domestic Entertainment Robots, 2009. Fotografija z dovoljenjem umetnikov 2009, James Auger, Jimmy Loizeau & Aleksandar Zivanovic
Kakšna bi bila videz in obnašanje robotov, če bi bil njihov model ločen od normativnih sistemov, ki jim določajo obliko in funkcijo?
Za pričujoči projekt smo osvežili idejo hišnega robota ter se premaknili od prijateljskih, ljubljenčkom podobnih napravic k zloveščemu in kompleksnejšemu načinu interakcije.
Roboti črpajo energijo iz letečih insektov in glodavcev preko mikrobne gorivne celice. V uprizorjenem procesu lova tako prikažejo spletke, pričakovanja ter eksistencialni spektakel življenja in smrti. Nastali roboti predstavljajo novo vrsto objekta, ki obstaja nekje med naravnim in umetnim.
Biografija

James Auger (r. 1970, Derby, Velika Britanija) in Jimmy Loizeau (r. 1968, St. Asaph, Velika Britanija) sodelujeta na projektih vse od zasnove koncepta Audio Tooth Implant, porojenega v času študija na Royal College of Art leta 2001. Po študiju na Kraljevi akademiji sta delala kot raziskovalca na Media Lab Europe v Dublinu. Sodelovala sta na skupinskih razstavah po Združenem kraljestvu in drugod: Don't tempt me (ICA, London; MoMA, New York, 2001), Future products (London, 2002), Mobilise (Dublin, 2003), Open Borders (Lille, 2004), Betes de style (MUDAC, Lozana, 2006), Philips Design exhibition (Eindhoven, 2007), Design and the Elastic Mind (MoMA, New York, 2008), What If (Dublin, 2009), Action! Design over Time (MoMA, New York, 2010–2012), New Energy in Art and Design (Rotterdam, 2012). Prav tako sta sodelovala na festivalih, kot so: Experimenta (Lizbona, 2003), ISEA (San Jose, 2006), Transmediale (Berlin, 2010) in Tech Fest (Mombaj, 2011) ter na umetniških in oblikovalskih konferencah v Baslu, Seulu, Berlinu in New Yorku. Sta prejemnika nagrade za oblikovalca leta, ki jo podeljuje The Köln School of Design, po izboru revije Time sta se uvrstila med 100 najboljših oblikovalcev leta 2002 in prejela častno omembo na festivalu Ars Electronica (Linz, 2004). Trenutno živita v Londonu, kjer predavata na Royal College of Art in Univerzi Goldsmiths.